What is the best material for outdoor tablecloth? Here is the answer
Posted by LVTXIIIOfficial

What is the best material for outdoor tablecloth?
Choosing the right material for your tablecloth can be a tricky and challenging process. To make the most of your outdoor dining or snacking experience, one must carefully select the tablecloth material as doing it right might make your life easy and if the tablecloth fabric is inappropriate, especially for outdoor use then it may make your life a living hell.
Each tablecloth fabric that is available in the market offers a variety of benefits and to select the best material for outdoor tablecloths we must be aware of the qualities of all types of textile tablecloths available for outdoor use.
One needs to dive into the vast range of textile tablecloths to find the best tablecloth fabric.It depends on what kind of use you have for the tablecloth.For example, if you are arranging an outdoor event. it may require a more fancy and elegant tablecloth. But for casual, informal, or daily use we need a rough and tough tablecloth material that can be easily cleaned and requires low maintenance. Following are some of the best tablecloth fabrics for your outdoors.
1. Cotton tablecloths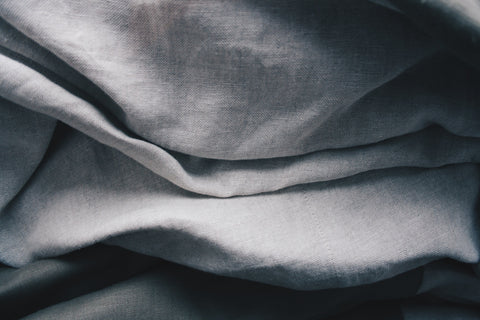 Cotton tablecloths are one of the most commonly used tablecloths.
As they are cost effective and can be reused for quite some time after being washed or cleaned. Cleaning them is easy and requires almost no effort. Simply wiping with a wet cloth can make your cotton tablecloth as good as new. They are easily available due to their wide demand and they come in different designs, shapes, and colors. Made from natural fibres this tablecloth fabric is easy to use and pocket friendly.
2. Polyester tablecloths
Polyester tablecloths are unmatched when it comes to covering your outdoor tables. It is a material like no other as it is long lasting, stain free, and water resistant. Unlike cotton which may soak water if thrown on in large amounts. It is the best material for outdoor tablecloth available on the market. 
It is a very durable and easy to use tablecloth material as it requires no maintenance. Its slippery surface enables it to stay clean and dry when challenged with dirt monsters like dust, greasy or sugary spills, and crumbs or crisps, etc. It is the one solution to all your outdoor tablecloth problems. 
Be it beauty and decor or hygiene, polyester tablecloths cover it all. And because these are synthetic fibers, they are available in many different designs and colors. You can literally choose from a million options, the polyester tablecloth that best fits your outdoor arrangement and sets the right mood for your outdoor activities.It is smooth and soft, perfect for reuse, and can be easily washed in a washing machine making it the best tablecloth fabric available on the market.
3. Oilcloth tablecloths
Oilcloth tablecloths are another amazing tablecloth material for your outdoor ventures. If you want a tablecloth fabric that is as soft as cotton but it is also water resistant, well look no more because as obvious from their name oilcloth tablecloths are made of cotton fibers that are coated with PVC to make them water resistant. So it offers the same durability and ease that comes with using a cotton tablecloth with an added bonus of no soaking of water if dropped on in large amounts.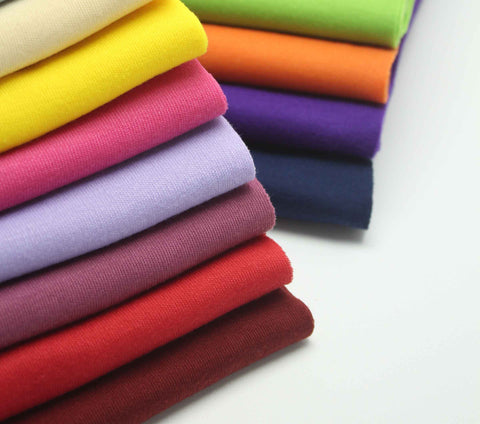 3. Vinyl tablecloths
Due to their low cost and resistance to water, stains, and even heat; vinyl tablecloths are perfect if you need to host an outdoor event for children like a pool or a birthday party. Any messy outdoor event can be easily catered by using these tablecloths. 
However, due to their lightweight one needs to make sure that some heavy object is placed on the tablecloth otherwise it may leave its place easily when it's windy outside. If you are looking for something long lasting vinyl tablecloths may not be the one for you. As they are designed mostly to be used and once and then disposed of.
4. Burlap Tablecloths
It depends on whether you would want to use burlap tablecloths or not. If your outdoor space is somewhat your creative place or you like to get inspired by what is around you then you might want to use a burlap tablecloth as it is one of the natural textile tablecloths and thus will give you outdoors a natural, earthly, and vintage touch. Its rustic colors and natural fibers make it very environmentally friendly. But it is not easy to clean so it is for those who have time on their hands to keep this type of tablecloth fabric clean and well maintained. 
Washing it, and keeping it clean can be very challenging and it is purely a natural tablecloth material and so it can easily mingle with the environment around. It cannot be washed in a washing machine because it is one of the most sensitive tablecloth materials out of all the textile tablecloths.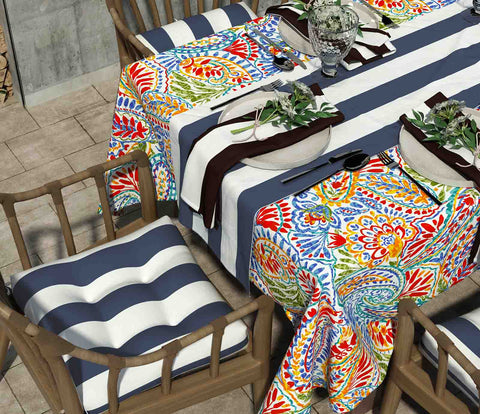 Best material for outdoor tablecloth
When choosing from all the textile tablecloths the best material for your outdoor tablecloth depends on the mood that you want to set, along with the purpose you need it for and whether you need something temporary or permanent.
Discussed above are five different types of outdoor textile tablecloths, and you can choose from them according to your use and need. An oilcloth table is a good choice if you want a hassle free and cost effective tablecloth material. Vinyl is very cheap and is perfect for single time use making it the best option for outdoor parties and picnics.
Polyester tablecloths are the most popular and durable of them all. Resistant to almost all natural and artificial factors like heat, water, stains, etc. Polyester tablecloths are your best bet if you are looking for ease and elegance. They are available in many beautiful designs, colors, and shapes. With them being cost effective and easily available, they are one of the most convenient to use and maintain thus making them the best material for outdoor tablecloth. They are also the most sold out of all the other types of textile tablecloths.
Find multi polyester tablecloths here.