A Must-have Patio Umbrella in Summer
Summer is here and patio umbrellas have become an absolute need at this point. If you are looking for outdoor patio umbrellas, you are in the right place because here is a guide to everything you need to understand if you are looking for a sun umbrella for your patio.
Qualities of a Good Patio Umbrella
Getting the best sun umbrellas might be a hard task to do so here is some help. A good quality sun umbrella patio will really focus on the following aspects:
1.Tough and Sturdy
One of the most important aspects of a good sun umbrella is the fact that it is a strong and sturdy one. There is so much in the outdoor environment that has to be looked after when it comes to outdoor furniture. The best patio umbrella will be one where you will not be compromising the shape and form for the style, comfort and durability. Another thing to keep in mind is how the outdoor sometimes the weather can be rough on your furniture and the umbrellas need to stand up to that.
2. Kid Friendly
Another aspect that you need to be really mindful of while you are shopping for an outdoor patio umbrella is how it needs to be kids friendly if you have children. Something too heavy might fall and hurt your child or something too light might not even stand a chance when the kids are playing around and having fun. This is important to understand because it will give you a clear idea of the kind of product you want in your house rather than making guess based purchases. 
3. Fade Resistant
Another really important thing that you need to understand is how the outdoors is a tough place to be in and the cloth used for the sun umbrella usually fades away after giving in to the horrible heat or harsh weather conditions. The best patio umbrella makers will be careful to use the kind of cloth that does not budge or fade because completely kills the beauty of the whole place leaving it looking really washed up and unkempt. 
4. Weather Resistant
The weather is one of the biggest concerns when it comes to sun umbrellas and general outdoor patio furniture. The weather really takes its toll on your patio accessories especially if it rains or hails and even in cases of extreme gusts of winds. What you need your best patio umbrella to do is to stand up to weather changes and remain in its place while also maintaining its colour. 
5. Shade and Sun Damage Safety
Sun damage is so real and it is the first and foremost responsibility of a great outdoor patio umbrella to really save you from sun damage. First of all, the size of the umbrella is important where it covers enough surface area and secondly, it is imperative for the cloth used for the umbrella to be able to really keep the sun rays away from you and your family. 
Why Are Patio Umbrellas a Must-have This Summer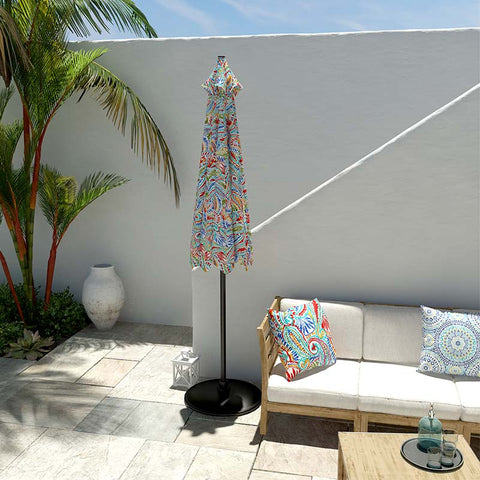 Outdoor patio umbrellas are the "it" factor that will make or break the whole outlook of your deck, patio or outdoor places. Patio sets with umbrellas really stand out and make the place far more beautiful and liveable than it has ever been. Here is why you absolutely need sun umbrellas this summer: 
1. Stay Sun Safe
Umbrellas are really important because the sun damages your skin and hair like no other. There are so many skin related complications that happen because of excessive sun damage. You will be safe from all that sun damage if you are in a sun safe outdoor patio umbrella. So say goodbye to blotchy sunburnt skin and rough, unhealthy hair because a good sun umbrella will save you from all of that. 
2. Shade Is A Great
The shade is the best part about patio sets with umbrellas. Shade is great for you not only because it generally works on the muscles to loosen them up and relax you but also because it is healthy for you. Shade really saves you from all that excessive time in the sun which can be the root cause of so many diseases.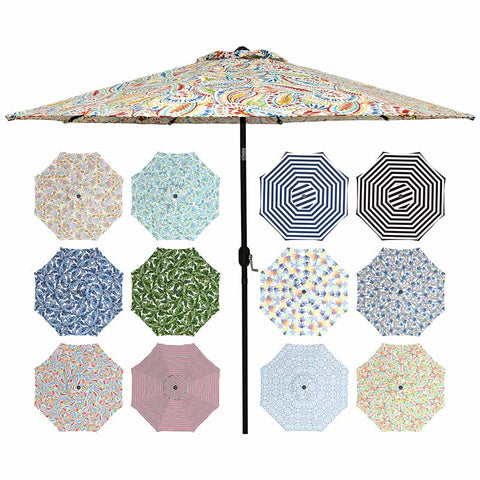 3. Portable and Easy To Use
Patio umbrellas are a must have this summer because you can take them along anywhere you are travelling and they will not be troubling you with excessive weight or really uncomfortable length. One of the greatest things about the best sun umbrella is its portability and ease of use. It is a super user friendly product that does not require much effort on your part and works out fairly well. 
4. Relax and Unwind
The best way to relax and unwind this summer is with the help of a good sun umbrella that just lets you loosen yourself up and give in to the beautiful weather outside. Your body is already quite huddled up about the long winter and it is now time to relax to muscles and release the tension. The best way to do that is to use a patio umbrella which will make relaxing outdoors the best part of your day. You can just sleep with your hat on your eyes, you can even read a book under it or just sip some sangria to make your day better.
5. Great Outdoor Decor
Outdoor patio umbrellas are such a beautiful addition to your patio furniture. They just add that much needed pop of colour to your surroundings and just accentuate the already present beauty of the outdoors so much. If you are looking to really beautify an outdoor setting somewhere on your patio or on a deck or even a back yard, outdoor patio umbrellas are an excellent choice for that matter. This simple addition will make your outdoor spaces really stand out and look their very best!
The right kind of sun umbrella on a patio will be the most relaxing aspect of it without a doubt. Click here for the best patio umbrellas!